Artichoke

crown canapés with black olive tapenade and goat cheese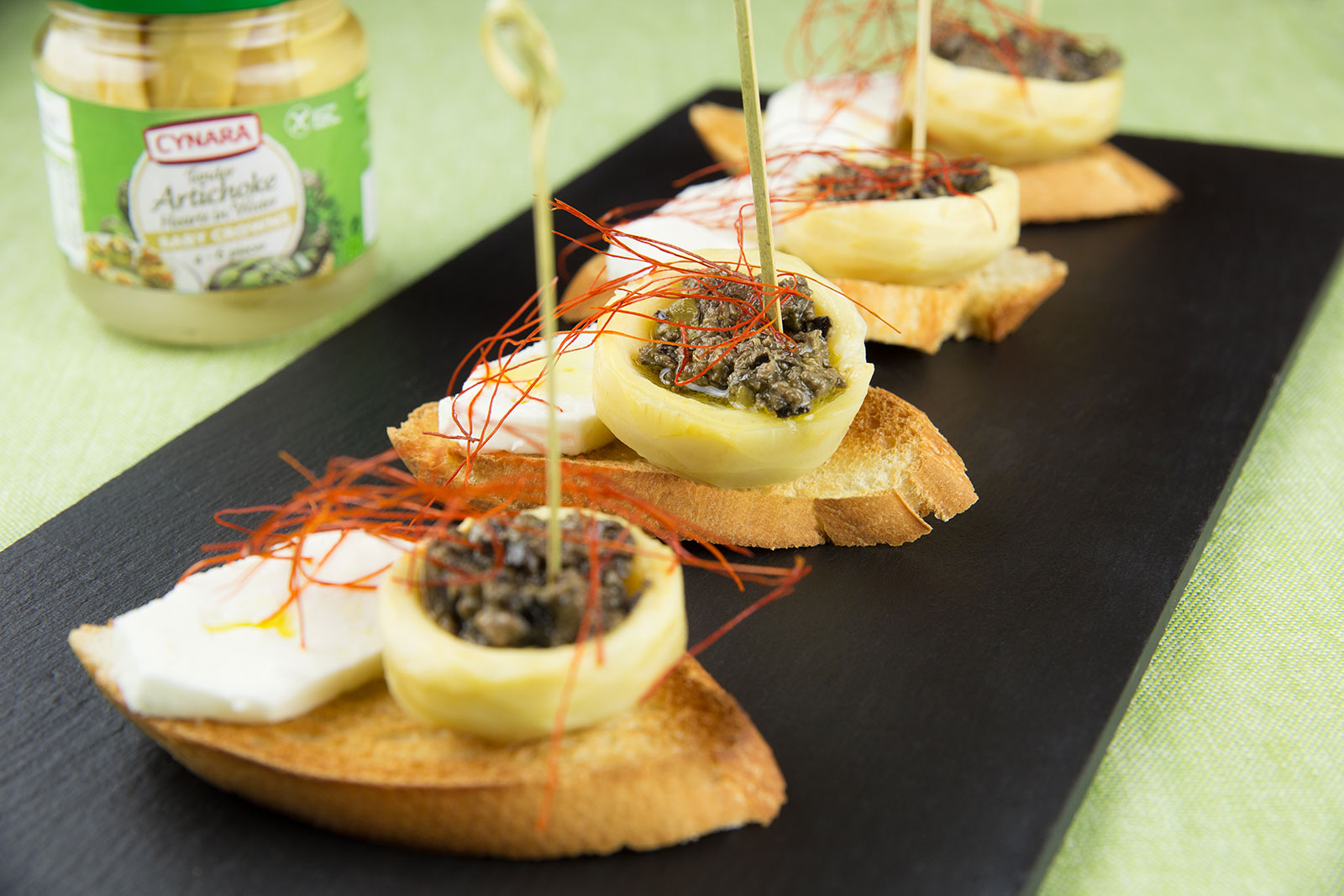 WHAT DO YOU NEED?
Ingredients for 4 canapés
4 Cynara Artichoke Crowns
¼ baguette
½ cup black olives, pitted and drained and roughly chopped
¼ garlic clove, minced
1 tablespoon capers
1 tablespoon fresh lemon juice
2 tablespoons extra virgin olive oil
½ filet of anchovy (optional)
¼ cup red chili threads
¼ cup fresh goat cheese
PREPARATION
Start by diagonally slicing the baguette into ¼ inch pieces. Toast lightly and upon removal add a touch of olive oil. To prepare the black olive tapenade combine the black olives, garlic clove, capers, fresh lemon juice, extra virgin olive oil and anchovy filet in a mortar. Use the pestle to pound the ingredients into a chunky paste. Alternatively, a food processor or blender can be used to prepare a smoother tapenade.
On one side of each of the toasted baguettes, place a Cynara Artichoke Crown, with the crowns facing up. Add a spoonful of the tapenade in the artichoke crown, as if it were a cup. Add some of the fresh goat cheese to the opposite side of the toast. Repeat with the remaining toasts. Finish each canapé with a splash of extra virgin olive oil and top with a pinch of the red chili threads for a dramatic presentation.
Ningún producto coincide con esos parámetros de búsqueda. ¡Prueba de nuevo!