Bourbon BBQ beef short ribs with char-grilled
artichokes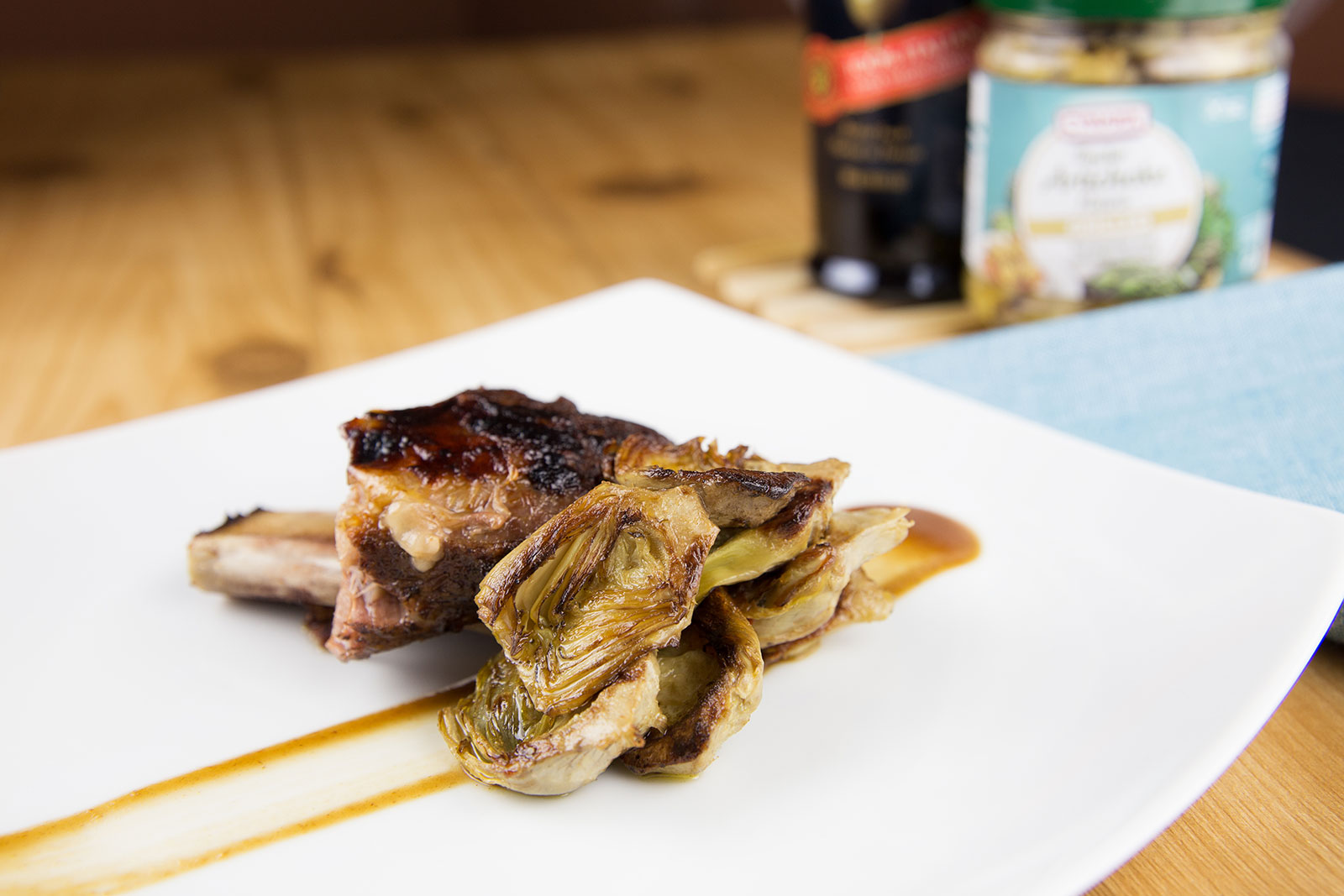 WHAT DO YOU NEED?
Ingredients for 4 people
1 14.11 ounce jar of Cynara's Grilled Artichoke Hearts
2 pounds bone in beef short ribs 3 inches by 7 inches (flanken-cut if possible)
3 tablespoons salt
1 tablespoon freshly ground pepper
2 tablespoons extra virgin olive oil
1 Spanish onion, minced
1 garlic clove, minced
2 tablespoons tomato concentrate
½ cup Kentucky bourbon
1 tablespoon oregano
12 ounce coca cola
¼ cup honey
2 tablespoons hot pepper sauce
½ bunch dried thyme and rosemary (optional)
PREPARATION
Generously season the short ribs with salt and pepper and let them come to room temperature, at least 20 minutes. Preheat the oven to 300°F. Once the short ribs are tempered and the oven is preheated, roast the short ribs on a rack for about 2 ½ hours, or until they are fork tender. During the roasting period, the short ribs may be oven-smoked periodically by burning some dried thyme and rosemary or wood chips in the oven.
For the sauce, start by preheating a sauté pan over medium heat. Add the extra virgin olive oil, the garlic and the onion together with a teaspoon of salt and sauté for 5-10 minutes until the onion is translucent and aromatic. Add the tomato paste, stir well to combine and cook for a minute. Add the bourbon and cook until the alcohol has burned off and evaporated. Add the coca cola, and reduce until the sauce has acquired the texture of caramel. Remove the sauté pan from the heat and add the oregano, hot pepper sauce and the honey. Take all of the ingredients to a food processor or blender and blend well.
When the short ribs are roasted and tender at the two-hour mark, start to glaze the ribs with the barbecue sauce using a pastry brush or bbq mop. Return to the oven. Repeat the process three or four times until the sugars in the bbq sauce start to caramelize. Remove from the oven and let them rest a few minutes before slicing.
To prepare the artichokes, heat up a griddle or sauté pan over medium high heat with a couple of tablespoons of extra virgin olive oil. Slice the artichokes in half through the root to maintain their structure and place them facing down on the griddle. Griddle the artichokes until golden brown and fragrant and set aside.
To plate the dish remove the bones from the short ribs and reserve as a garnish. Slice the short ribs into 4 portions. Brush a bit of the bbq sauce on the plate if desired. Place the bone on the plate, the meat on top and accompany with the griddled artichokes.