Little gem
artichoke

Caesar with shaved spring radish and black olive dust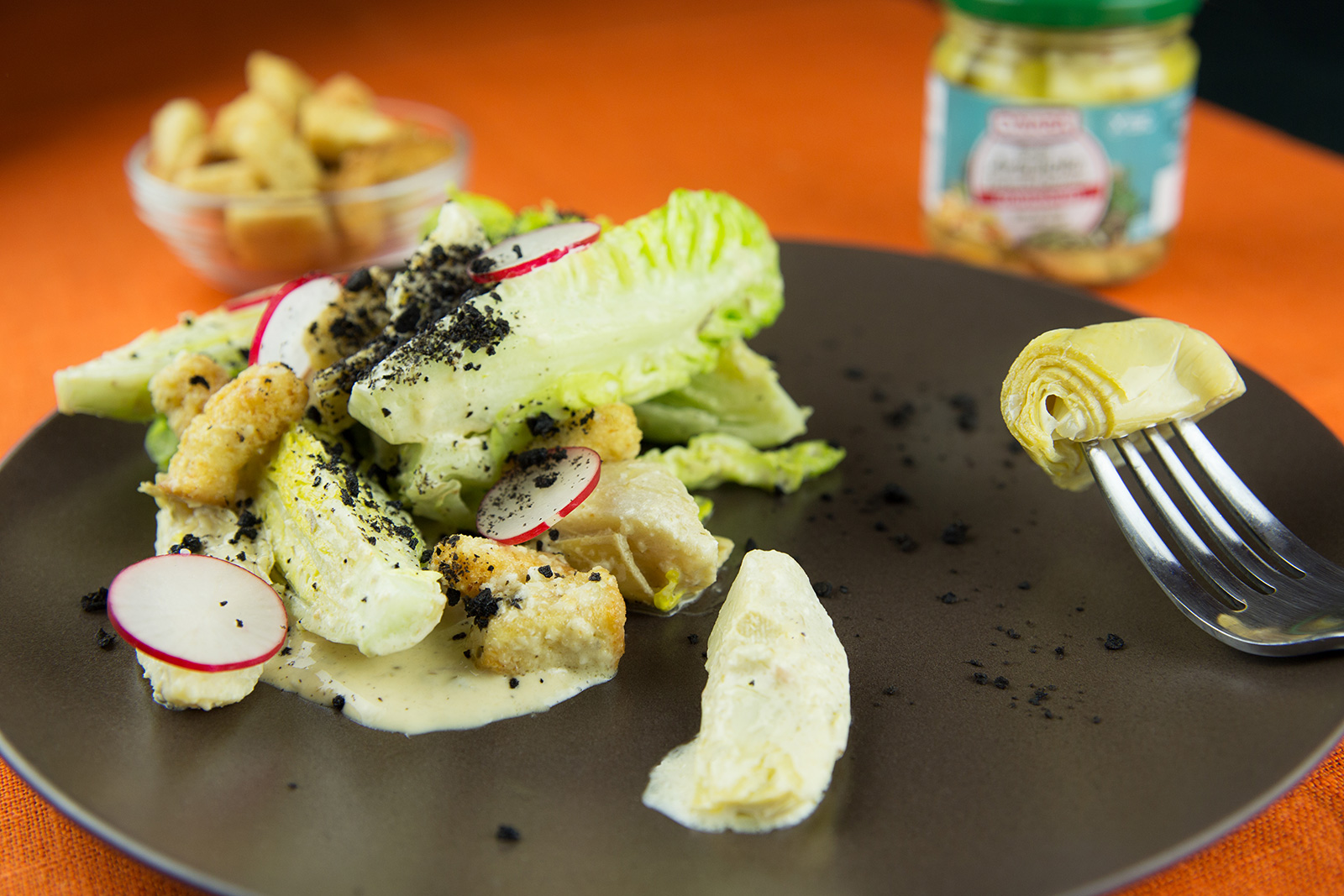 WHAT DO YOU NEED?
Ingredients for 4 people
1 14.75 ounce jar of Cynara's Marinated Artichoke Hearts
5 heads of little gem lettuce
4 spring radishes
½ cup croutons
1 can pitted black olives
¼ cup mayonnaise
1 tablespoon Dijon mustard
1 garlic clove, peeled and finely minced
1 tablespoon capers, drained of their brine
¼ cup fresh grated Parmesan cheese
2 tablespoons fresh lemon juice
1 tablespoon Worcestershire sauce
1 filet of salt cured anchovy (optional)
½ cup extra virgin olive oil
PREPARATION
Start by making the Caesar salad dressing. In a blender, add the mayonnaise, Dijon mustard, garlic, capers, Parmesan cheese, lemon juice, Worcestershire sauce and anchovy. With the motor still running on a low speed, incorporate the extra virgin olive oil in a slow stream to emulsify into the mixture. Remove the Caesar salad dressing from the blender and reserve.
Wash the little gem lettuces and cut into quarters lengthwise, maintaining the lettuce intact along the root. Combine the cut gem lettuces in a bowl along with Cynara's Marinated Artichokes Hearts and the croutons. Toss the salad ingredients well. Plate the little gem lettuces with care and place the marinated artichokes and croutons on top of the lettuces. Shave the spring radishes with a sharp chef's knife or with the assistance of a mandolin and place on top as well. Finish the dish by sprinkling the black olive dust on top.  
For the black olive dust
Drain the black olives of the liquid in which they are stored. Dehydrate in the oven at 180° F for 8 hours or leave them on top of the oven for roughly three days or until they have lost all of their water. Create a fine dust with a blender. Alternatively, you can substitute finely chopped black olives. 
Ningún producto coincide con esos parámetros de búsqueda. ¡Prueba de nuevo!